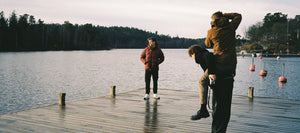 A big part of our lifestyle is being out in nature, with a high presence – low impact state of mind. Our sustainable plan has always been to create long lasting products, keeping control of every step in production & always look for more sustainable ways of delivering quality. Sustainable goals are not set in stone, we are constantly pushing the limits. As true Mountain Works frontiers.
LONG LIVE OUR ICONS
Extending the life of the things we surround ourselves with is one of the most important contributions we can make to reducing our environmental footprint. For brands, manufacturers and individuals alike. It is a responsibility shared by all of us.
CREATE, USE & PASS ON
A large part of our lives is spent outdoors, in nature or in urban environments. We adapt our products to this lifestyle. We see the ageing of our products as a beautiful thing. Where the goal is to find favourite garments that provide comfort for a long period of time. When garments outlive the needs of our customers, we like to see them passed on and take part in new adventures.
FAVORITE SOURCED MATERAL NOW CURRENTLY INCLUDES
- Recycled Nylon
- Recycled Polyester
- Organic Cotton
- Certified traceable Down
- Recycled filling
NEXT STEP
1. Digitalised 3D sample collection
2. Minimize waist and left over fabrics
3. Re-sell business on site
4. Always develope long lived products
5. Reparable products

Our goal is the journey, and we will never stop searching for a more sustainable way of delivering high quality garments for our active lifstyle.